Whether you're a fan of Japanese organisational consultant Marie Kondo or Sort Your Life Out's Stacey Solomon, getting rid of clutter is key to an organised home. When the mood takes, it's often the kitchen or bathroom that gets a good spring-clean. But our bedrooms need some love and attention too.
They should ideally be a place to relax and unwind after a long day. A restful retreat from the hub of the kitchen and living area, the bedroom needs to be a space to sleep soundly, read quietly or catch up on the latest box-set in peace. It's all very well decorating the room in soft, tranquil colours and choosing textural fabrics, cosy throws, crisp linens and plump pillows and cushions. If the storage lets the bedroom down, the result can be cluttered chaos.
Laura Ashley Fitted Bedrooms by Symphony are the perfect solution to space-enhancing storage with carefully planned and designed interior fittings for everything from dresses, skirts and suits to shirts, ties, shoes, bags and jewellery. Whether it's the master bedroom, guest room, teenager's or child's space, Laura Ashley's Linen or Premium Oak effect interior wardrobes feature a wide range of storage options to suit.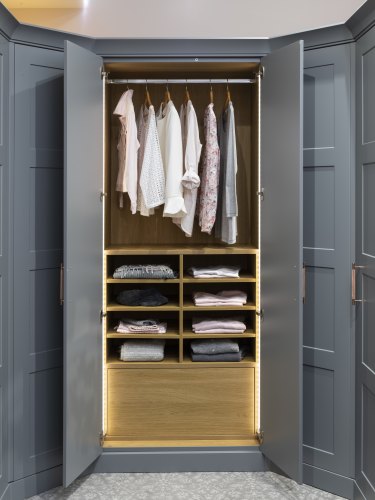 Josie Medved, Design Project Manager for Laura Ashley at Symphony, offers key advice for making the most of fitted storage:
Internal push to open drawers
Small drawers can be used for accessories while large, deep drawers are perfect for spare bedding. They can be fixed at different heights too, making it kinder on the back for those who have trouble reaching low down. For a small bedroom with just enough space for a bed and a wardrobe, internal drawers within the wardrobe are a great solution. They create a neat, uncluttered look while still providing valuable storage. Alternatively, those with a large bedroom may prefer a long run of wardrobes with some internal drawers rather than a separate chest of drawers. This helps to achieve a minimal look.
Double hanging
For those who don't own a lot of full-length outfits, it is possible to double the amount of short hanging space, as Laura Ashley wardrobes are tall enough to provide two hanging spaces – one on top of the other. Simply ask for an additional shelf and hanging rail and hey presto, two storage solutions in the space of one!  Also, opt for velvet coated hangers – not only will you be able to store more items, but sticking to one type of hanger dramatically improves the aesthetic and order in your wardrobe.
LED lights
No more hunting around at the back of a dark wardrobe searching for that elusive shoe. With LED strip lights integrated into either side of the wardrobe, everything will be much easier and quicker to find. The LEDs automatically switch on and off thanks to a sensor that is activated when the door is opened and closed and there are illuminated hanging rails too.
Shoe storage
Choose small open box spaces to display attractive boxes for shoes, scarves, gloves, hats and other accessories. This makes it easier to find everything, ideal when you're in a hurry.
Internal mirrors
With a self-adhesive fixing, a full-length mirror can be added to the back of any Laura Ashley fitted wardrobe door. Alternatively, a silver-effect framed swivel mirror can also be added to the cabinet for a more flexible solution that enables you to see from different angles.
Open shelves inside wardrobes
Separate open shelves can be ordered to create a single stack of shelves within the whole wardrobe or just on one side for a more versatile solution. These are ideal for bulky clothes such as jumpers and can also be used as a spot for the laundry basket.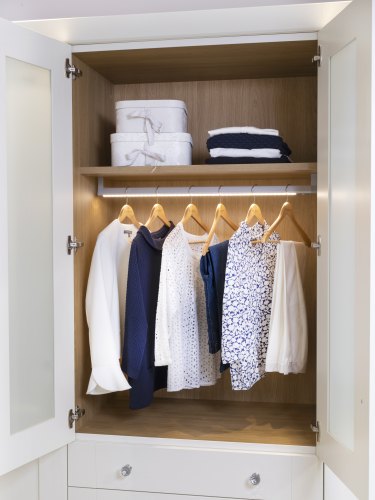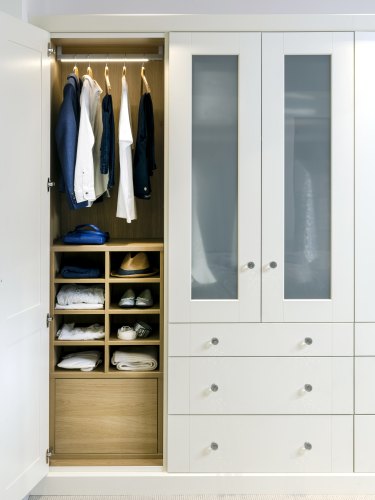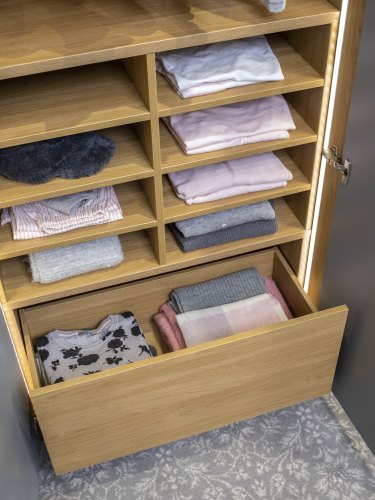 Check out the beautiful bedroom furniture available at your local retailer and choose from classic or contemporary styles to complement your interior.