When you've had a busy day and are craving a little rest and relaxation, your bedroom should be an oasis of peace and tranquillity. Just like the bathroom, our bedrooms are an escape from the hectic day-to-day. Whether it's a frantic nine-to-five at work, a full-on day with the family or just getting on with things, there's nothing quite like coming home to your own personal retreat with a dream colour scheme. Here at Laura Ashley, we know how important it is to dedicate this space to your personal well-being, with space-saving storage and furniture to make the most of every inch.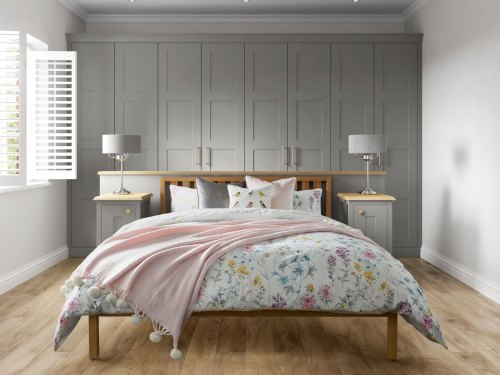 Our bedrooms should ideally offer quiet and calm for a good night's sleep. You may also want a peaceful corner to read that novel you've not had time to indulge in or to catch up on the latest box sets on streaming platforms. As well as being calming, relaxing and welcoming, our bedrooms can also save us valuable time thanks to well-organised storage that helps us get ready in a hurry every morning. Knowing where everything is makes life so much simpler and stress-free. 
The key is to plan the room carefully with a relaxing colour scheme, textural fabrics with feel appeal and savvy storage in the form of fitted furniture. Add in a chest of drawers, bedside cabinet, dressing table or desk and a window seat and you have the ultimate co-ordinated look to suit every need. 
 Laura Ashley Fitted Bedrooms offer everything you could possibly want with wardrobes expertly designed with interior fittings for clothes, shoes, bags, accessories and all the little bits and pieces that can otherwise get lost in an unorganised space.  The Rivington is a beaded Shaker design with a traditional look, Marston offers a classic feel with a contemporary twist while Sherborne is an elegant Shaker style.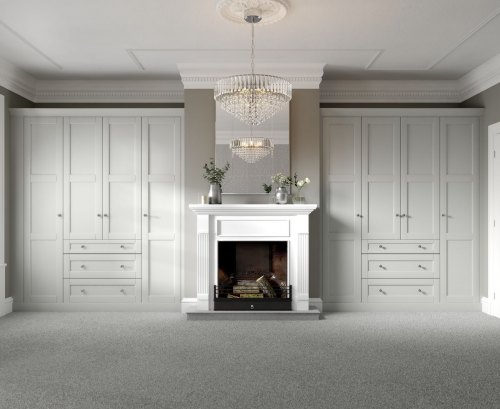 To help you plan your dream bedroom, Helen Ashmore, Head of Design at Laura Ashley, has the following advice: 
To add to the serene feeling of a bedroom, store things out of sight. This will help the atmosphere of the room feel calm and spacious. One of the best solutions for this is to consider a Laura Ashley Fitted Bedroom design appointment. It will help you to maximise the space you have and create a personal solution to fit your needs.

Furniture needs to fit the room it lives in and create the feeling that it is meant to be there. This is particularly true for bedroom furniture. Try to avoid overpowering furniture pieces for a smaller bedroom.

If you have the space, add an upholstered chair or an end-of-bed bench. It's a lovely way to introduce another tactile textiled surface into the space.
Your bedroom should be your own personal sanctuary where you can relax, unwind and find peace. Decorating your bedroom with your favourite colours and collectibles is a great way to ensure you are creating a relaxing environment.
A soothing palette of monochromatic tones of Seaspray Blue or Sage Green can really help to create a calming, serene space.

As well as creating a calm space, a bedroom should also look and feel cosy, sophisticated and timeless. One way to do that is through layering your bed, choosing colours and patterns that harmonise together and adding texture with blankets and quilted bedspreads that help to add visual interest to the room and make your bed a focal point of the space.

A beautifully dressed window will help to frame the window and finish the space. Consider blackout-lined curtains and Roman blinds to help reduce daylight in the summer months. Keep the colours and patterns for the room in the same colour palette and bring other patterns into your window dressings.
Layer in lighting pieces to align with the style you are looking for. Table lamps and wall lights can be both decorative and functional, allowing you to create dimmer atmospheric lighting in the evenings to help adjust the space ready for bedtime.
So, get ready for spring/summer and start planning your dream bedroom now for a cosy retreat that you'll long to come home to. 
The Laura Ashley Bedroom Collection is available from retailers throughout the UK, click here to find your nearest showroom, where you will be able to see our bedrooms on display and samples of all doors and handles.